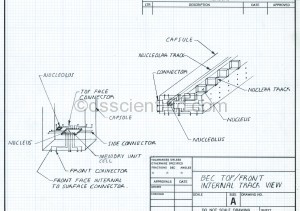 Nanotechnology
— DSSCIENTIFIC
Comments Off

on Nanotechnology
111
Nanotechnology Solid state networks to fabricate Nan transistors capable of dispensing pharmaceuticals to local tissue sites.
1) BEC TOP/FRONT INTERNAL TRACK VIEW
This diagram demonstrates a partial structure of a bioelectric cell. This electronic network is constructed with nanoblock semiconductors to carry pharmaceuticals throughout the body.
2) BEC INTERNAL NUCLEAR VIEW
This diagram demonstrates the address location of electron surface charges that are gate to the cell surface by control systems.
3) NANOBLOCK SEMICONDUCTOR NETWORK
This diagram is a schematic representation of a transistor network and logic gates using advanced solid state crystal lithography to fabricate semiconductor nanochips.
4) NANTRANSISTOR
This diagram is representation of a Nantransistor. A solid state atomic particle fabricated using various elements to make a Nantransistor.